Balast Marine Ltd.  is a green energy venture for purifying ballast water and preventing ocean water pollution throughout the globe.
Balast Marine Ltd. and Meptagon Group established this joint venture to develop a unique patent that will enable large ships around the world to thoroughly purify their ballast water, thus avoiding the destructive potential of marine pollution.
Background
Balancing sea water in ships is a process that is regulated and directed by the water management market. For the last 120 years sea water has been used to stabilize ships at sea, but this water have become a source of harmful pollution that is now a global concern.
In order to protect the ecological environment of seaports severe international regulations have been established and in the coming years all ships will be required to install IMO systems and efficiently manage the water they convey while maintaining the required water quality.
The Patent
The current water filtration systems installed on ships around the world bear low filtration efficiency, limited filtration areas, inefficient flushing systems and frequent corrosion of components.
To overcome these Balast Marine's TeraMax 500 water filtering system offers improved filtration, efficient performance while reducing operating costs. This system can be implemented in a number of operations for water purification.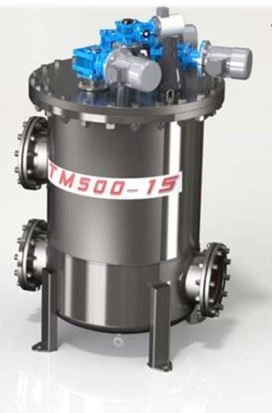 The TeraMax 500 system efficiently utilizes the filtration surface, a very dense filtration system and for each surface ratio an improved filter is created. In addition, the system ensures continuous filtration during flushing, a very low volumetric flow and increases the efficiency of the water treatment system.
Advantages
Effective filtration of small microorganisms (such as 20 μ) 10 μ in the second generation.
Significant improvement of the industrial standard by 40-50 μ in a flow capacity of 500 m3 per hour.
Compact design of 0.8 m in diameter and 1.8 m in length.
An intelligent flushing control system
Durable plastic components (resistant also to corrosion).
A simple and reliable mechanism.
Reduced operating costs. Expenses related to size and complexity of the filter are reduced and there is no waste of energy operating costs.
TeraMax 500 is a protected patent in the European Union, in China and in other international regions.
About us
Ballast Marine Ltd. is a company that promotes green energy.
Established in 2014 with the foundation of Cleantech Company.
Balast Marine Ltd.  is very familiar with the water market and sells its products through regional distributors and in central regions through subsidiaries around the world.
In the traditional water purification sector, Balast Marine Ltd. has partnered with regional distributors that incorporate the TeraMax 500 filters in a variety of water treatment projects.
Investors in the company: Meptagon Group, Geokom Ltd., the Engineering Company, Dr. Moshe Abramov and others.