Industrial Command and Control Systems in the Age of COVID-19
By: Yehuda Eilon, Head of Industrial Cyber Security, Meptagon Group
Published on Calcalist https://www.calcalist.co.il/local/articles/0,7340,L-3804691,00.html
Recent developments and innovations allowed the development of advanced augmented reality-based Command and Control systems for various production processes. Such systems allow for complete remote command and control over any industrial system on the production floor and can be used for example when working from home, in quarantine, etc.
The creation of the industrial process miniature (SKID) for centrifugal pumping was the product of ongoing collaboration between Meptagon Group, PTC, and Matrix. PTC's AR infrastructure allows for full control over every element of the process, from anywhere in the world. As mentioned, the system allows for full remote operation with no physical contact, including the ability to read operational parameters of system-controlled valves, pressure gauges and flow meters. The operator works in a augmented reality environment, simulating the production floor.
Alongside the new possibilities offered to us by AR systems, there is also increased concern of interference/disruption of the industrial process by way of cyber attacks. This threat grows as industrial infrastructure become interlinked with organizational management (IT) systems as part of the Industry 4.0 (OT) model. Attacks on IT infrastructure may then become a threat to plant infrastructures.
To counter this threat, we offer a comprehensive security suit against cyber attacks. The security suit is a technological toolkit that provides full protection for the entire process, allowing organizational decision-makers to gain complete confidence about having the perfect defense against cyber attacks.
Meptagon Group has been a key industrial player in Israel and abroad for over 60 years. The company's mission is to stand by its customers in keeping up with the constant technological progress in the world. The industrial companies are often perceived as conservative. Yet, at times of change like today the industry stands to benefit from novel capabilities being developed in various fields, as a response to new challenges. We can help to turn the threats into opportunities.
We have chosen several leading companies to join us in building this unique, innovative solution.
Below is an overview of the technologies that constitute the SKID environment:
The iBNS (industrial Bit Net Sentry) solution by Embedded Solutions 3000 is based on a patented appliance that functions as a transparent network entity, preventing numerous attacks on the OT environment, including attacks by insiders who hold encryption keys and knowledge of the entire company/site network. The iBNS solution functions autonomously with no need for human interference, providing a dynamic encryption that is changed automatically for each packet, with no preloaded keys: iBNS is a transparent network entity (meaning invisible and thus unassailable), which uses a multitude of criteria to filter out suspicious communications, including against data payload bit assembly. Additionally, iBNS maps communication into virtual channels according to the packet contents and independently of any source addresses, managing bandwidth for each virtual channel with great precision. This allows, for example, to counter +1 attacks sent from different addresses to attack sensitive equipment in small increments that cannot be detected by applicative RANGE testing.
A "diode" solution which allows for one-way relaying of information, e.g., to an "observation" station from within the control network. Terafence offers unique products that rely on novel capabilities, based on complete (and smart) control over the direction of information flow, in a secure and completely isolated manner, with no possibility of a breach and/or disruption of the data stream required to maintain the process. This is done using a data flow controller (control over flow direction is embedded on an FPGA, without any MAC, IP, and/or CPU addresses). Thus, data is relayed using actual physical stimulation (electrical wire).
SIGA – a cyber security-aware remote work solution: SIGA offers direct connectivity to the OT production environment via the electricity circuity, eliminating any connection to the operations network and ensuring absolutely no packets are received from external networks. This creates a secure remote work environment of the production floor, even for the most sensitive production, in a completely isolated manner that cannot be breached or manipulated.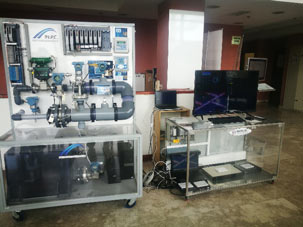 Additionally, SKID incorporates FW, IDS, and other leading technologies to implement for a complete technologically advanced solution and optimal cyber-defense of the plant core facilities.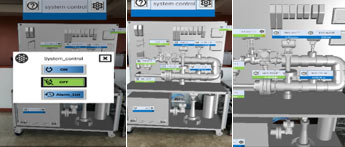 Augmented reality to facilitate command and control over operative systems
A few words about the people-behind-the-technology. Meptagon's security team is headed by Yehuda Eilon, who has over 20 years' experience in leading cyber security aspects of operational processes for various security and industry organizations. He has partnered with David Kantorovitz, a renowned OT cybersecurity expert with vast experience in the fields of mission-critical infrastructure regulation and implementation of advanced, proven solutions.
We wish to thank Matrix and PTC for the fruitful collaboration that has resulted in innovative solutions.